An Arctic Blast is Coming
The media and people have been talking this polar vortex coming down from Canada. So what exactly is the polar vortex. It is a large area of low pressure and cold air surrounding both of the Earth's poles. It ALWAYS exists near the poles, but weakens in summer and strengthens in winter. The term "polar vortex" has only recently been popularized, bringing attention to a weather feature that has always been present.
When it starts moving down from Canada thats when our area gets a blast of arctic air. We be seeing our first blast of Arctic Air the next two days. We will be seeing lows in the teens and highs temperature struggling to get above freezing next couple of days due to the arctic air associated with the polar vortex. Right now the end of the month of January temperature probability are showing that we are going to be below average.
The same thing can be said for the start of February with temperature probability showing below average temperatures.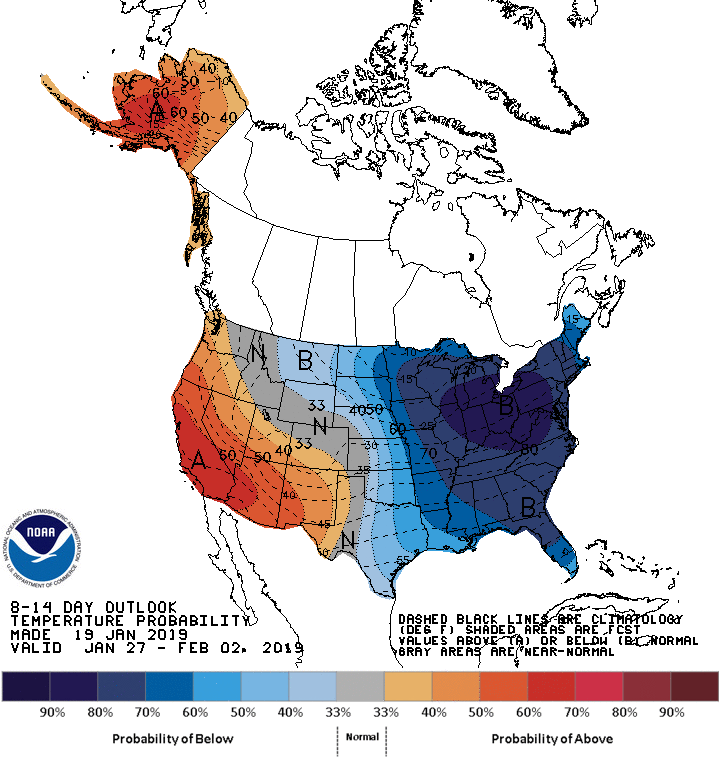 If we can get some moisture involved with high probability of below average temperatures its hard not to rule out the chance for some kind of wintry precipitation. We will keep you up to date on this cold air that we be seeing the over the next couple of weeks.